Message from Pat, Nov 8, 2022
Hi everyone
I wanted to send this before tomorrow's meeting so that you would all see the set of good news now since the student of the month festivities take up most of our time. There are three pieces of very good news.
Today I delivered a check for $ 1025 to Stan Mingione at The Estuary to support the badly needed upgrades to Meals on Wheels materials and equipment. To say they were thrilled would be an understatement. A photo is attached. Thank you to Joan Michaud and the Outreach Team for their work on this effort.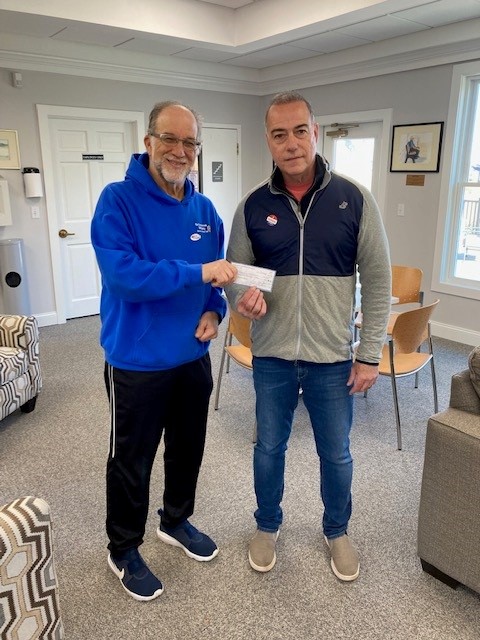 If you remember when District Governor Tari Marshall-Day visited us in July to discuss her priorities for the year, she also asked for donations that would be appropriate for women's shelters. We donated a substantial number of materials to her at the time. We were also asked to suggest some places that could benefit from donations like these. A raffle was to take place at the District Conference which was held last Saturday in Hartford.
Well, Bill O. and I attended the Conference and thankfully we were one of the four Clubs selected in the raffle. As a result, we have a large amount of feminine products to donate to Safe Futures (formerly The Womens Shelter) in New London. I spoke to them this afternoon and they are absolutely thrilled. They have such needs for the women in trouble that they serve, and this donation should help them greatly. Pattie and I will be delivering the goods to them at 11:00 am on Friday - and of course getting a photo and/or video to put on the website. If you would like to join us for this presentation, let me know.
And, as I was beginning to write this email, I got an email from Judy Sullivan from the OS Chamber of Commerce letting us know that they will be giving us a coveted community award at their annual meeting and silent auction at The Kate on Tuesday, January 10th. Here is the text of the email.
===========================================================================
Hi Pat,
I wanted to call but realized I don't have a phone number and am not sure where in OS you live.The Old Saybrook Chamber would like to recognize the great work and contribution to the community that the Rotary provides by awarding thethe Rotary our 2022 Community Impact Award. 😊 This is one of the of Awards that will be presented at ourAnnual Meeting & Silent Auction event – Tuesday January 10, 2023 at The Kate. "Howdy 2023!"
It's a fun evening of a little bit of chamber business, silent auction, bbq – western theme (western dress appreciated! ). We would like to provide you with 2 complimentary tickets.
We will be sending an invitation email to membership tomorrow.If you send along your phone number – or stop in the office – we can chat further.
Congratulations to the Rotary Club of Old Saybrook!
Thanks Pat,
Judy
=======================================================================
This is all very reinforcing. Let's keep up the good work. We are making a difference in the community. Take care.
Pat