Dictionary Project
Since 2002 every October, Old Saybrook Rotary purchases and distributes dictionaries to all third grade students in the towns of Old Saybrook, Old Lyme and Westbrook.
Old Saybrook Rotary was the first in Connecticut to take part in this national program in 2002. This project, under the direction of Charlie Norz, has been recognized by Rotary district-wide and is met with enthusiastic support by school administration and teachers. The students love getting their very own dictionaries and immediately begin using them!
November 2019
Rotarians (L-R) Gary McCauley, John Aforismo, Charlie Norz and Tara Winch distributed dictionaries at the Daisy Ingraham Elementary School in Westbrook. Dictionaries were also given to students at Goodwin, St. Johns and Lyme-Old Lyme elementary schools.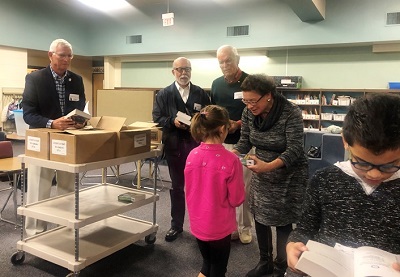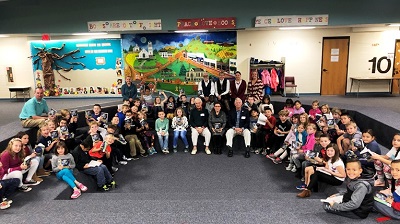 November 2018
Several members of the Rotary Old Saybrook distributed a total of 225 dictionary books to all third grade students and teachers at schools in Old Saybrook (St. John School, Goodwin School), Westbrook (Daisy Ingraham School) and Lyme-Old Lyme (Lyme Consolidated School, Mile Creek School). In addition to the usual dictionary material, the books also contain information regarding governmental, historical, geographical and scientific areas. This was our 17th consecutive year of the club's participation in this program under the sponsorship of "The Dictionary Project" organization of Charleston, South Carolina. The Rotary Club provides these books free of charge to the schools.