Wine & Beer Tasting and Silent Auction - SAVE THE DATE... Friday March 3, 2023
Enjoy a night of sampling fine wines, tasty buffet spread and music at Saybrook Point Resort & Marina – the shoreline's premier venue! Have fun bidding on items from area businesses in our silent auction. Proceeds are used to assist the communities of Old Saybrook, Westbrook and Old Lyme.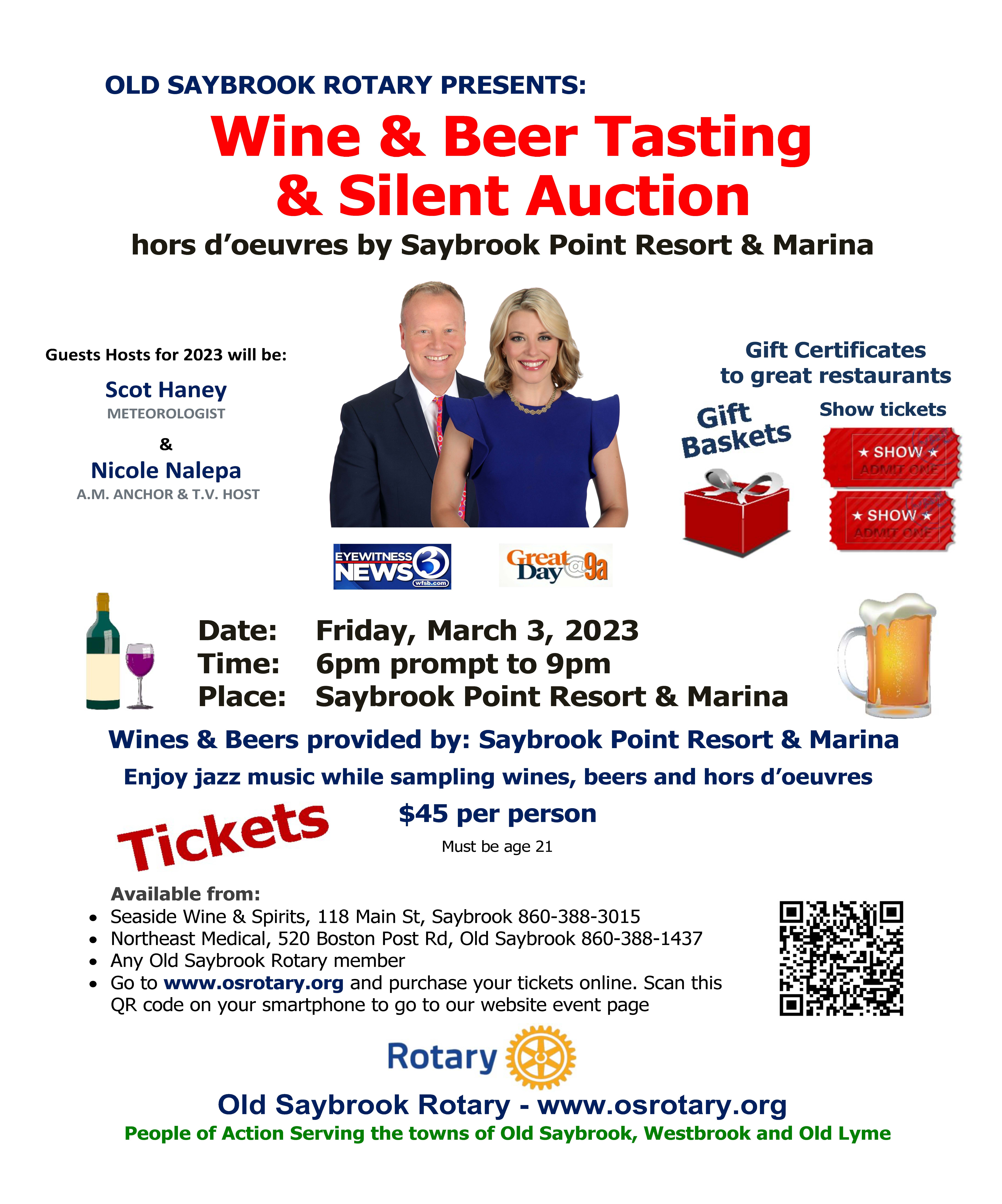 Pictures of last year's event Pictures from previous events
Many thanks to our sponsors!
Gold Sponsors 2022
Middlesex Health Guilford Savings Bank
Silver Sponsors 2022
Johnson Brunetti Retirement & Investment Specialists
Tower Laboratories
Connecticut GI Physicians
Essex Financial Services
Saybrook Ford
New England Power Equipment
Essex Savings Bank
Cardone & Daughter Automotive
Reynold's Suburu
Marine Max Westbrook
Pardi & Zucco - Berkshire Hathaway Real Estate
Valley Shore YMCA Westbrook
Bronze Sponsors 2022
Estuary Council of Seniors
Tri-State Glass
Brenner/Thompson & Peck Insurance
B&L Construction
River End Landscaping
H&R Block Old Saybrook
Alarm Systems
Absolute Air Services LLC
J.J. Dibble Construction
Old Saybrook Shopping Center
Northeast Medical Products
Golden Horizons Elder Care Services
Indian Town Rotary Friends
Eastern Analytical Lab
Saybrook Seafood
Mosquito Joe of CT Shoreline East
Charles Scwab
Downie's Septic Excavation
Scotch Plains Tavern
Gowrie Group Insurance
Little Pub Restaurant
Lyman Residential Services
Medicine Shoppe Pharmacy Old Saybrook
Table Sponsors 2022
Harry's Marine Repair
JM Realty
Sounds Great
Flanders Fish Market
Atlantic Seafood