Interact Club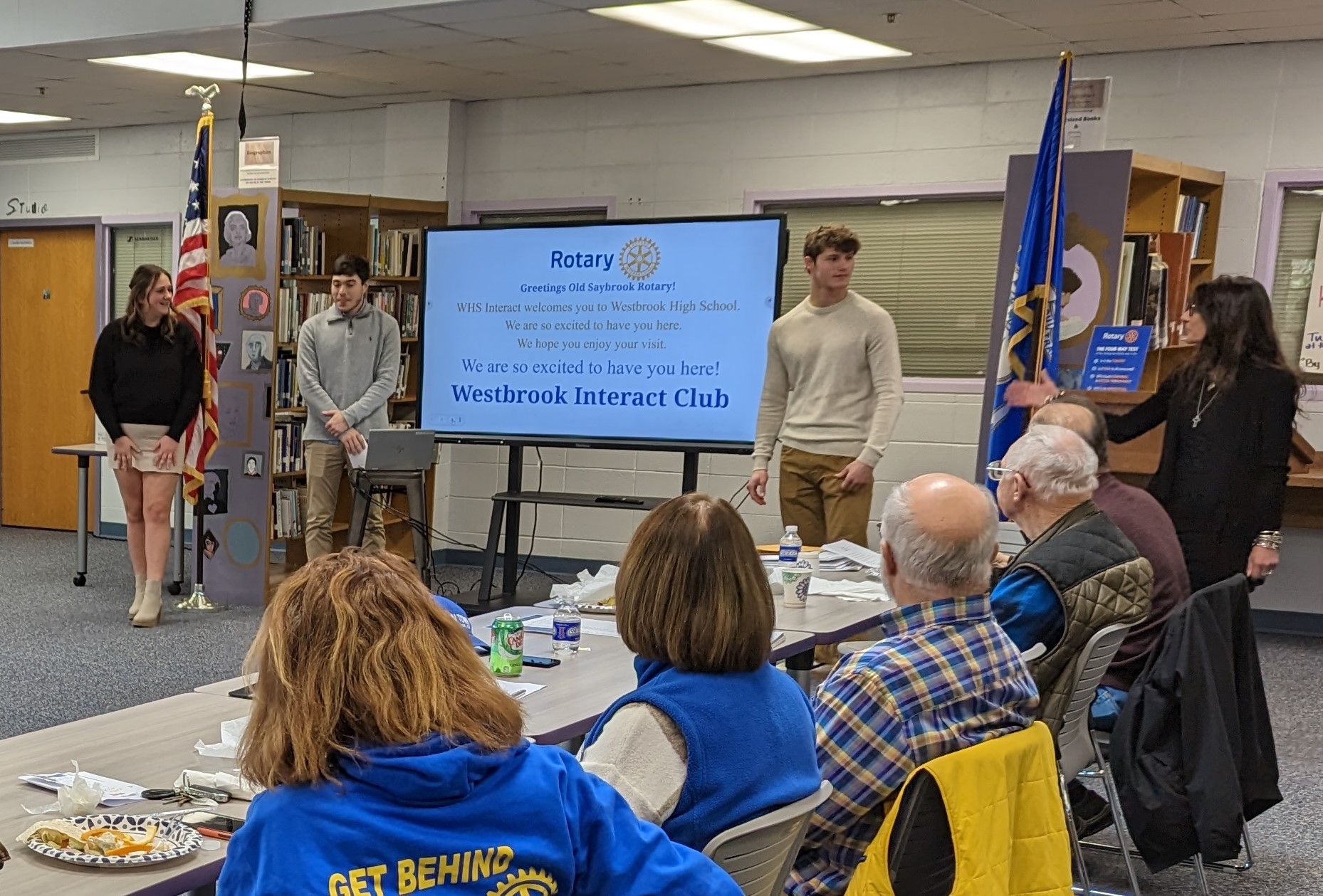 Power Point Presentation by the recently formed Westbrook High School Interact Club.
The WHS Interact Club has been extremely active since the beginning of the school year. Seven school wide activities have been held to raise awareness and money for worthwhile community causes. These activities included: A Spirit Week Food Drive in September, A Candy for a Cause event that collected extra Halloween candy (180lbs.) and donated it to the Ronald McDonald House, an Alzheimer's Awareness Month activity in November, which included the wearing of Purple Ribbons, Participating in the 33rd annual Trees of Hope sponsored by the Ronald McDonald House of Connecticut, Collecting toys for the McDermott Chevrolet Toy Drive, School wide Pajama Day with proceeds donated to the Connecticut Children's Research and Care, and a Share the Warmth Mitten Drive. The presentation was followed by an eye-opening Q & A period. Congratulations to the WHS Interact Club for a job well done and good luck in your future projects.
The Old Saybrook High School Interact Club is sponsored by the Rotary Club of Old Saybrook. The club has 30 active members grades 9-12. The Interact Club concentrates on community service projects in school and beyond and is supported by 2 fundraisers in spring and fall.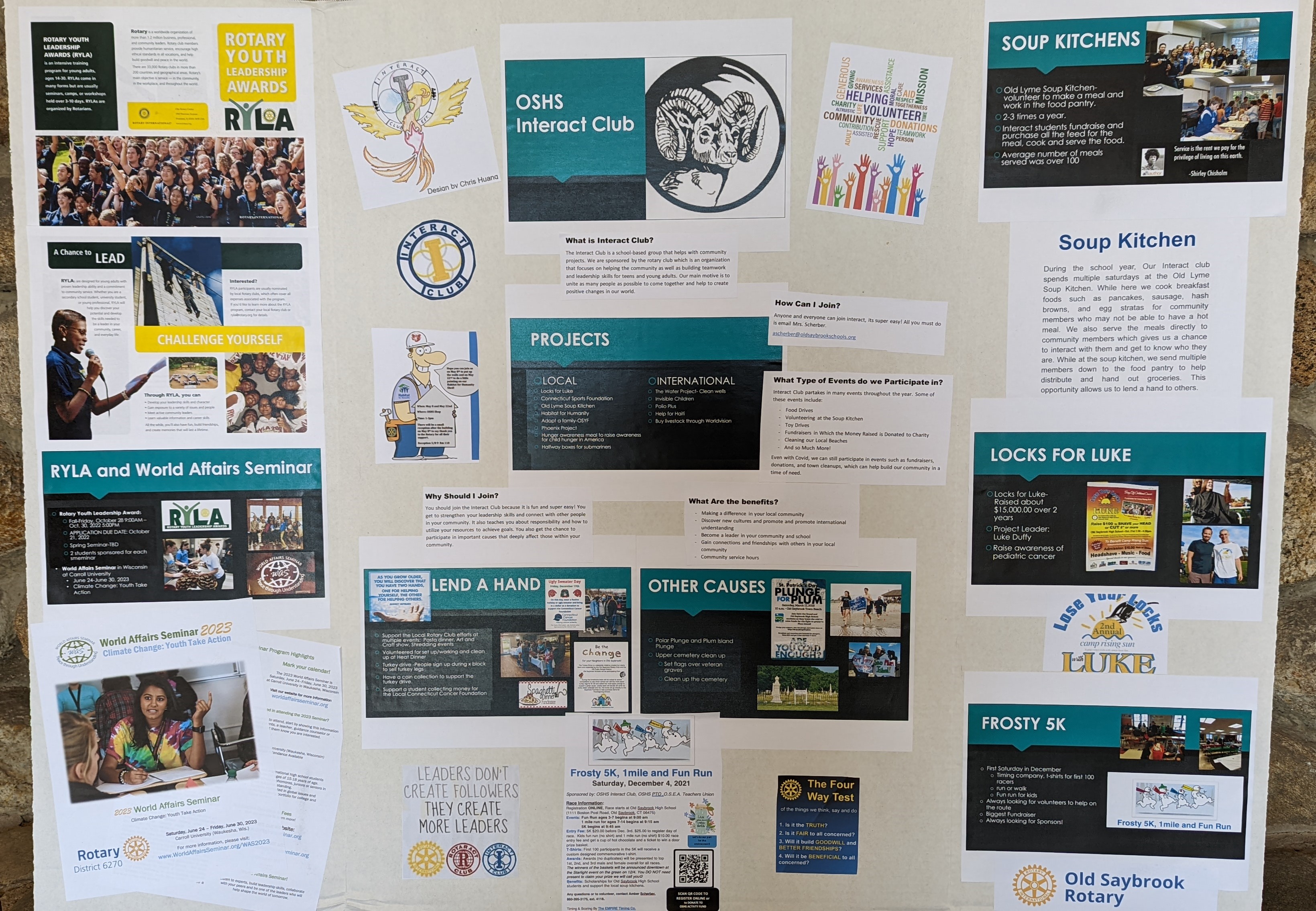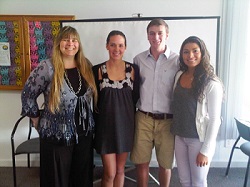 In addition, the Rotary Club sponsors three leadership conferences each year to support student leadership in the community. The Interact Club has supported the Shoreline Soup Kitchen by providing help preparing and serving as many as 100 meals. The Interact Club has sponsored meals at the Old Lyme Congregational Church. Other projects included donating monies to support clean water projects in impoverished countries, the Daffodil Days Program which raised money for the American Cancer Society, and the donation of dinners and gifts to the Old Saybrook Youth and Family Services at holiday times.
Interact Club Activities (Past & Present)
Phoenix Project: Collects clothing and supplies to people who have had homes destroyed by fire
Hygiene for Haiti: Collects new and used soaps which are melted down to liquid form and sent to poverty stricken areas of Haiti to help stop the spread of disease.
$700 raised for shipping packages to troop in Afghanistan
Habitat project 2013: Built a 6' x 8' shed for a local cementary and stocked it with tools for maintenance of the cementary.
Karaoke Night: (Open to OSHS and Wesbrook HS students)
Cost is $6 per person, $5 with a canned good for the Soup Kitchen There will be a bake sale during the event. All proceeds benefit Invisible Children Foundation.
Gifts from the Heart: (open to public) Students are taking orders of pink frosted heart cookies and flowers to deliver for Valentines Day. Flowers/cookies can be picked up on February 12th or delivered to OSHS students during homeroom. Cookies are $1.00 each and come in a clear plastic bag tied with pink ribbon. Flowers will be sold in addition to the cookies so that you can send your sweetie a treat and be donating money to a great cause at the same time! Students are also selling dark blue t-shirts that say help for Haiti on them for $10 each. All the proceeds go to Haiti relief. Students are also having another "Change" the World competition. It is a class to class competition to see which class can bring in the most spare change. We have a money collection bin in the main office with each classes name on it. So we can see which class is donating the most money at all times! All the proceeds will go to Haiti.
Penguin Plunge: (open to public) The students have created a team through the Interact Club and the OSHS Best Buddies group. The team is trying to raise $1,000 for Special Olympics. Each participant who wants to jump into the water must raise at least $50.
Old Lyme Congregational Soup Kitchen: Students will volunteer to cook a breakfast of sausage, egg strata, hash browns, pancakes, and bagels.
Drive-In Movie: Still in the planning stages, students will be arranging the front parking lot to accommodate vehicles and individuals. Popcorn will be sold!
May 8, 2010 Habitat for Humanity Project: The following pictures were taken at the Old Saybrook High School Shop room. Students, with the help of a few Rotarians and parents, are putting the finishing touches on a shed for a house in Middletown that was also built by Habitat for Humanity.