President Elect Nancy Morin presided and led us in the Pledge of Allegiance and 4-Way Test. Prayer: Gail Fahey
Card Game Winner: Nancy
Raffle: Gail, Joan M, Marty
Happy Bucks: PZ for the Wine Tasting (WT); NM: 1st meeting as the leader; JM: the hard work on the WT; DL: WT; KL: today is global Women's Day; JD: article on Nancy in the Harbor News; CR: WT, UCONN Basketball; JW: WT; GF: guests; EP: WT; MD: WT; GM: WT, guests, speaker, Wife Pam's birthday!; BD: WT
Nancy's Updates
Our meeting of March 29 is a social meeting at Myrcene Brewery 6-8PM. It will be catered by Mindy K. Guests are welcome.
Joan Winters spoke about Rotary Day of Service May 20. We are planning on beach cleanups with the help of the OSHS and Westbrook Interact Clubs. Joan is checking into aspects such as liability insurance, where the trash and recyclables go, the tides and permits that may be needed.
Marty's Report on the Wine & Beer Tasting and Silent Auction
The event was a success both financially and operationally. Everything went smoothly and everyone seemed to have a good time. The staff at Saybrook Point Resort & Marina provided their usual reliable and excellent service. The food was great and the layout of the Grand Ballroom allowed for more seating and comfort to attendees. The event was successful because of the work by Rotarians - it was truly a team effort!
Wine Tasting Report as of 3/7:
| | |
| --- | --- |
| RAFFLE | $1,526.00 |
| AUCTION | $8,378.00 |
| DONATIONS | $140.00 |
| TICKETS | $7,420.00 |
| SPONSORS | $15,975.00 |
| TOTAL INCOME | $33,439.00 |
| EXPENSES | $8,220.00 |
| PROFIT | $25,219.00 |
# Tickets sold: 165 ($7,420)
Sponsors:
Gold: 3 ($3,000)
Silver: 17 ($7,750) YMCA in-kind credit for $500, Downies paid $250 in-kind credit $250
Bronze: 26 ($6,600)
Table: 5 ($625)
TOTAL: $17,975 (expected)
#Attendees (Paid for by Rotary to SPI): 225
Pending items: 6 items: $565.00
Lottery Tree: $875
EXPENSES

Saybrook Point Inn

downpayment wine tasting

2534

$ 5,000.00

Lighthouse printing

inv 35422

2578

$ 300.00

Lighthouse printing

inv 35405 & 35388

2580

$ 730.00

Lighthouse printing

inv 35497

2584

$ 200.00

McCauley

Decorations

2585

$ 38.55

McCauley

decorations-balloons

2592

$ 73.12

Saybrook Pt Inn

partial payment

2593

$ 1,403.17

Band - cash

$ 475.00
Total as of 3/7: $8,219.84
Pending Invoices to post: Lighthouse Printing, SPI
Key helpers night of:
Pete, Gary: meetings, overall planning of event including food, layout
Amber: with daughter Libby took on auction, raffle operations
Set up: many including Pam McCauley
Intake/checkout: John A, Jan, Kathy, Tara, Nancy, Joan W, Donna
Financial reporting, arranging credit card terminal: Kathy
Scot and Nicole
Individual honors: Gary brought in the most sponsors ($4500) and Joan W. took in the most auction items (29).

Wreaths Across America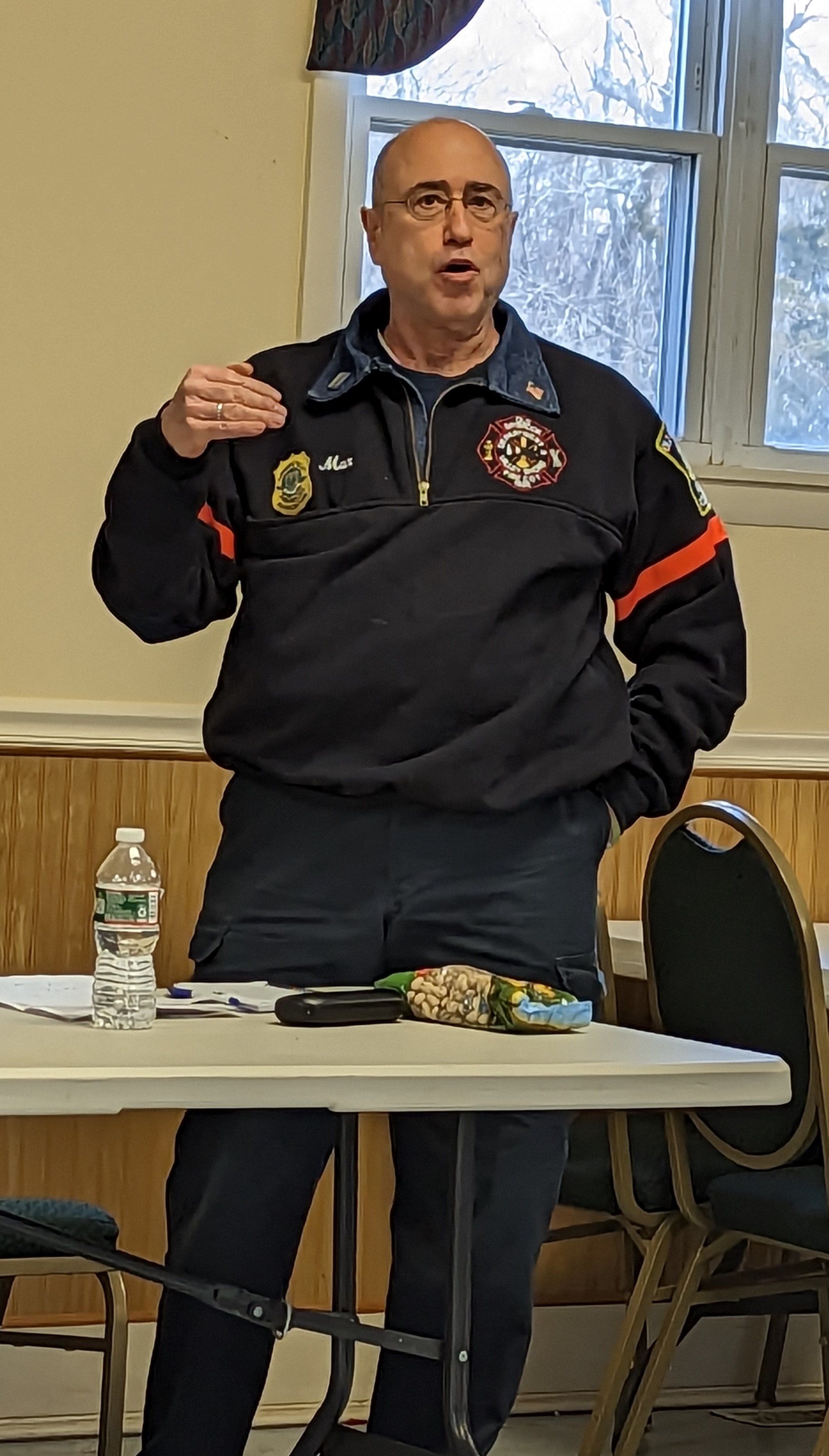 Max Sabrin, member of the OS Fire Department spoke about Wreaths Across America. Rotary has been a participant for the last several years.
The following was taken from an article March 9 by Eric O'Connell of Zip06:
"Old Saybrook will once again honor the town's veterans on National Wreaths Across America Day on Saturday, Dec. 17. This time, however, the town is joining the national day with a wreath-laying ceremony of its own.Founded in Maine in the early '90s, Wreaths Across America is a non-profit organization whose mission is to memorialize and pay respect to those who served the country as a member of its armed forces. The initiative aims for wreaths to be laid on the graves of veterans in towns across the country. A convoy of cars travels from Maine to Arlington National Ceremony in Washington, D.C. each December for a larger wreath-laying ceremony.
According to a press release from the Old Saybrook Fire Department (OSFD), "Over the years, the Wreaths mission has grown to encompass its current theme of 'Remember, Honor, and Teach' the value of freedom in today's world. Since the initiative began, the Wreaths mission has laid one million wreaths by 2012 to remember and honor our veterans."
Max Sabrin, an OSFD member, decided this was the year the town should recognize the veterans in Old Saybrook with a wreath and ceremony.
"I've been promoting the program within the department since at least 2008," Sabrin said.
While the convoy has passed through Old Saybrook before, Sabrin said this is the first year the town is participating in a wreath-laying ceremony of its own. In Old Saybrook specifically, there are 689 veterans buried in the town's four cemeteries. According to Sabrin, the town has 100 volunteers to place the wreaths.
The town has also purchased 70 extra wreaths that will go to next year's event. To sponsor a wreath for 2023 (buy two get a third free) or to volunteer visit:wreathsacrossamerica.org/pages/170882.
After the wreath-laying, the town will host a ceremony at noon on the Town Green. The ceremony will include members of the fire department and police department honor guard, a short performance by the Old Saybrook High School Choir, and an invocation and benediction by OSFD Chaplain Geoff Sinibaldo. The public and veterans in the community are welcome to attend.
"We're honored to be able to pay tribute again this year to Wreaths Across America and its message of honoring our veterans," said Sabrin in a statement."
Other items:
Golf Tournament - Charlie is working on this. The price has been lowered so that we can keep the entry fees under $200.
Outreach: Joan Michaud recommends we support Wreaths Across America. The amount will be determined
A discussion on whether we should support the restoration of Luigi's Restaurant, which sustained significant water damage, took place. The question came up, should the club support a private business in a situation such as this? Action was tabled for now.
Membership: Joan Winters reports a few interested people are interested in joining
Website: The Wine Tasting page has been updated with 2023 information. Joan Winters will be working on our Facebook page.
---