Pledge: President Pat DeVito
Prayer: Gary McCauley
THE FOUR WAY TEST of the things we think, say, or do
Is it the TRUTH?
Is it FAIR to all concerned?
Will it build GOODWILL and BETTER FRIENDSHIPS?
Will it be BENEFICIAL to all concerned?
Raffle: Devin Carney, Ralph Stevens, Joan Michaud
VISITING ROTARIAN: Ralph Stevens, The Rotary Club of Sanibel-Captiva
HAPPY BUCKS

Marty D for the student, having breakfast with Bob A and Joe A, Bob A for the student, Joe A be positive the Steelers will win, Ralph S thankful to be above the water line, Alan S for the student, Gary McC happy for the support received at The Beacon dinner, Nancy M for the student, Jeanne Manfredi happy to be with us this AM, Charlie R for the dictionary project and the NYG, Bill O for the student, Kathy C happy for Gary McC, Pete Z a sad dollar for all the lost golf balls.
PRESIDENT'S UPDATE
DMG for Acton Public Library has been approved by District 7980
ARAP funds approved by Selectmen now goes to committee
OS Chamber asked The Rotary Club of Old Saybrook to male a scarecrow no decision
25th Anniversary of The Community Foundation of Middlesex County
Voted to send $5,000.00 to the Rotary club of Sanibel-Captiva for IAN relief.
Turkey Drive may raise $1,500.00 will direct $500.00 to Old Saybrook, Westbrook, and Old Lyme family services units
PROGRAM: Tara Winch
STUDENT OF THE MONTH (English): Lyme-Old Lyme High School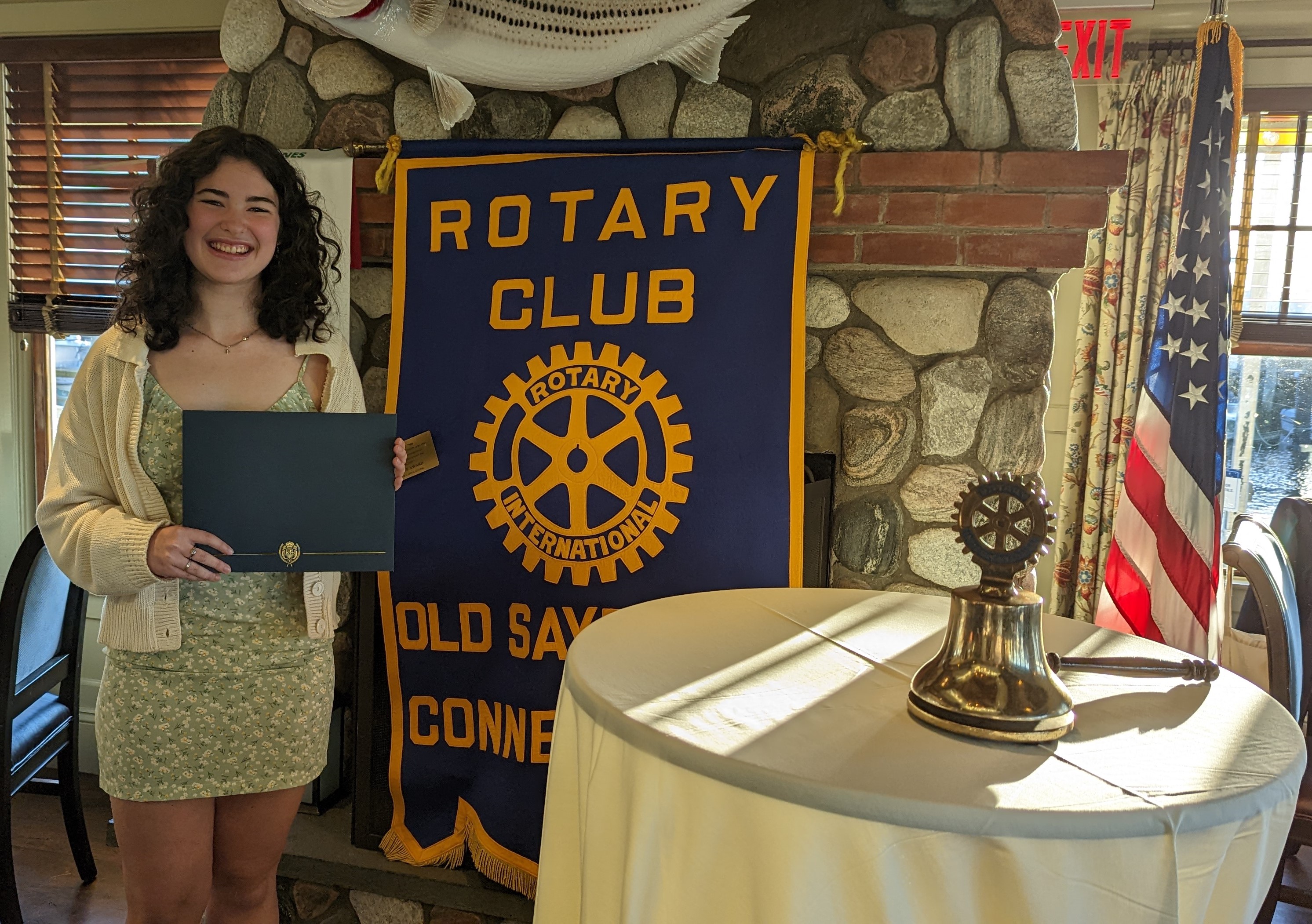 Vice Principal, Lyme/Old Lyme High School, Jeanne Manfredi introduced Rhyleigh Russell. Rhyleigh is an outstanding student with a wide variety of interests in many school activities. English teacher Elizabeth Cleveland described Rhyleigh as a creative thinker, and with a passion for stories. Rhyleigh's impressive set of values made for an easy choice for the Student of the Month Award. Rhyleigh is considering a half dozen Liberal Arts colleges in New England for continuing education
STUDENT OF THE MONTH (English): WESTBROOK HIGH SCHOOL
Student Lydia Marvin was unable to attend. Lydia will be invited to come next month to receive her award.
STUDENT OF THE MONTH (English): OLD SAYBROOK HIGH SCHOOL
Student Catherine Minegar unable to attend due to a mix-up.
PROGRAM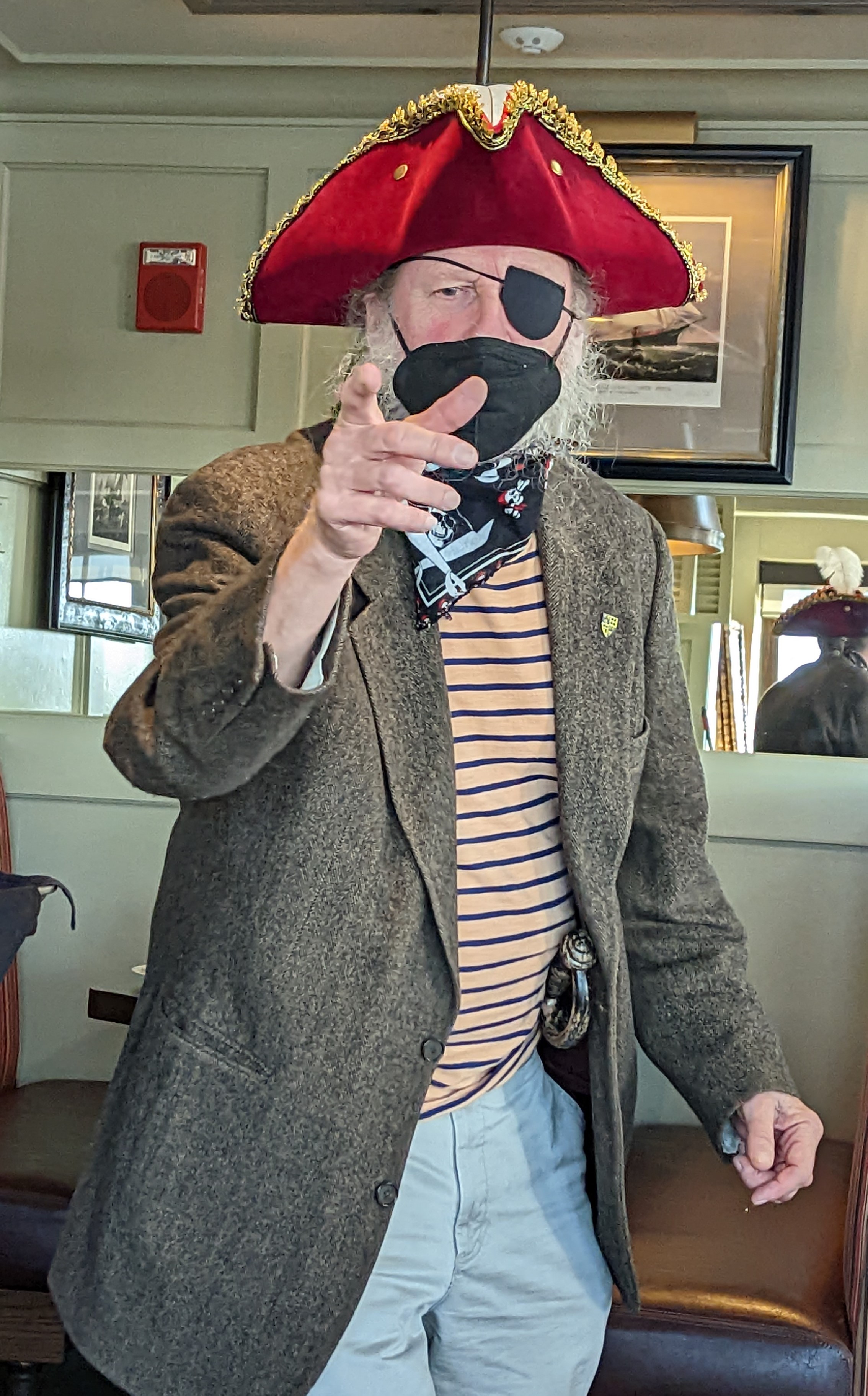 Nathan Wise talked about the upcoming performance of HMS. Pinafore, Valley Regional High School Kelsey Hill Rd Deep River, Saturday and Sunday October 15,16, 2022. Nathan is in the play and gave us a sample of the music he will be singing. Well Done.
FUND RAISING
Golf Tourney: Charlie Renshaw
Charlie will have final income figures next week looks like $9-10,000
Sandi Taylor was pleased with the everything about the tourney
Brent and Sandi's daughter thanked The Club of all the effort
Talk about and decide time and venue for next year
Mac Dinner: John Aforismo
Sell tickets!!!
Friday John & John G will shop
Runners in place
Saturday need help in kitchen and packaging cookies
Sunday AM setup John G cooking need help
Sunday PM need help with cleanup
COMMITTEE REPORTS
Foundation: Jan Perruccio - No Report
Outreach: Joan Michaud - Sending $300.00 to VFW Old Lyme, Dinner and Fund Raiser
Membership: Pete Zucco - Has been in contact with Kathy and Kristina AAA
Website: Marty recognized the taker of minutes who have been rotating week to week to make sure they get done. Thanks for an excellent job to Nathan Wise, Bill McLaughlin, Charlie Renshaw and Marty
FUTURE MEETINGS
Wednesday October 19, 2022, Discussion of the History of Rotary
Wednesday October 16, 2022, Ngwesi Library Maureen Hughes The Rotary Club of North Branford Noon Penny Lane Pub
Wednesday November 2, 2022, Kristin Mazziotti COSTCO Estuary of Seniors Breakfast 7:00 AM
Wednesday November 9, 2022, Student of the Month Mathematics 7:00 A M Saybrook Point Inn
Wednesday November 16, 2022, Donna DeLisa Old Saybrook Garden Club Noon Penny Lane Pub
Wednesday November 23, 2022, NO MEETING THANKSGIVING
Wednesday November 30, 2022, Social event at Mycrene Brewery Ragged Rock Road
AVENUES OF SERVICE
Club Service
Community Service
Vocational Service
New Generations
International Service
A breakdown of all the sub committees is on our web site. Look it over.
THOUGHT FOR THE DAY
"Even with a high cost, living has remained very popular"
---