Pledge: Pat Devito
Prayer: Pat Devito
Four Way Test: Pat Devito
Card Game: No card game this week
Raffle: Alan and Charlie R were winners along with two WHS students.
Happy Bucks: Most were for the WHS Interact Club, faculty advisors, the meeting venue, and the wonderful lunch thanks to the OSHS catering service.
Pat's Updates: members interested in serving as a club officer should contact Mike O. Chair of the nominating committee.
Day of Service is May 20th. We are encouraging the Interact Clubs from Westbrook and Old Saybrook to combine their efforts in one service project to benefit our communities.
Pat will be contacting Martha Hoffman about the Uganda Legacy Well Project. The Club had several questions to be answered before deciding an International Project for this year.
Program: Presentation by the recently formed Westbrook High School Interact Club.
The WHS Interact Club has been extremely active since the beginning of the school year. Seven school wide activities have been held to raise awareness and money for worthwhile community causes. These activities included: A Spirit Week Food Drive in September, A Candy for a Cause event that collected extra Halloween candy (180lbs.) and donated it to the Ronald McDonald House, an Alzheimer's Awareness Month activity in November, which included the wearing of Purple Ribbons, Participating in the 33rd annual Trees of Hope sponsored by the Ronald McDonald House of Connecticut, Collecting toys for the McDermott Chevrolet Toy Drive, School wide Pajama Day with proceeds donated to the Connecticut Children's Research and Care, and a Share the Warmth Mitten Drive. The presentation was followed by an eye-opening Q & A period. Congratulations to the WHS Interact Club for a job well done and good luck in your future projects.
Wine Tasting and Silent Auction: Marty updated the event. Laid Back Jazz will again be the featured musical group. Sponsor/Auction Item spreadsheets will be emailed to club members shortly. Please read and keep Marty updated. More tickets and flyers are available.
Discussion Item: After a period of discussion about future meeting venues, Pat volunteered to send out a survey to all Club members concerning meeting times, possible locations, and food service. A decision will be made after the results of the survey are tabulated.
Next meeting: January 25th at Noon at the Old Saybrook Parks and Rec building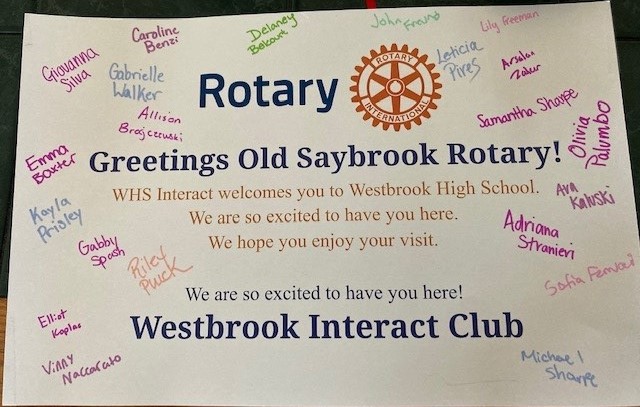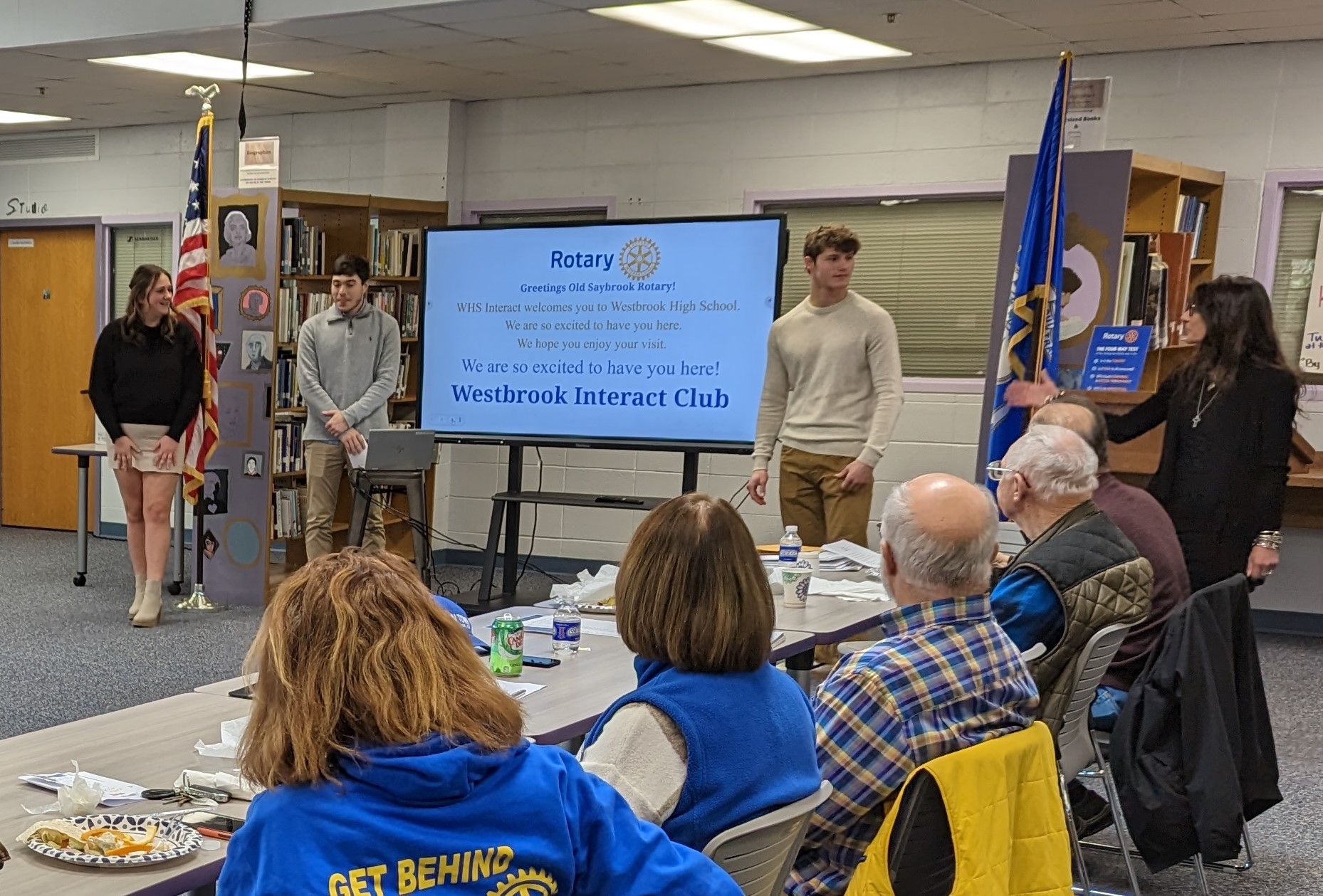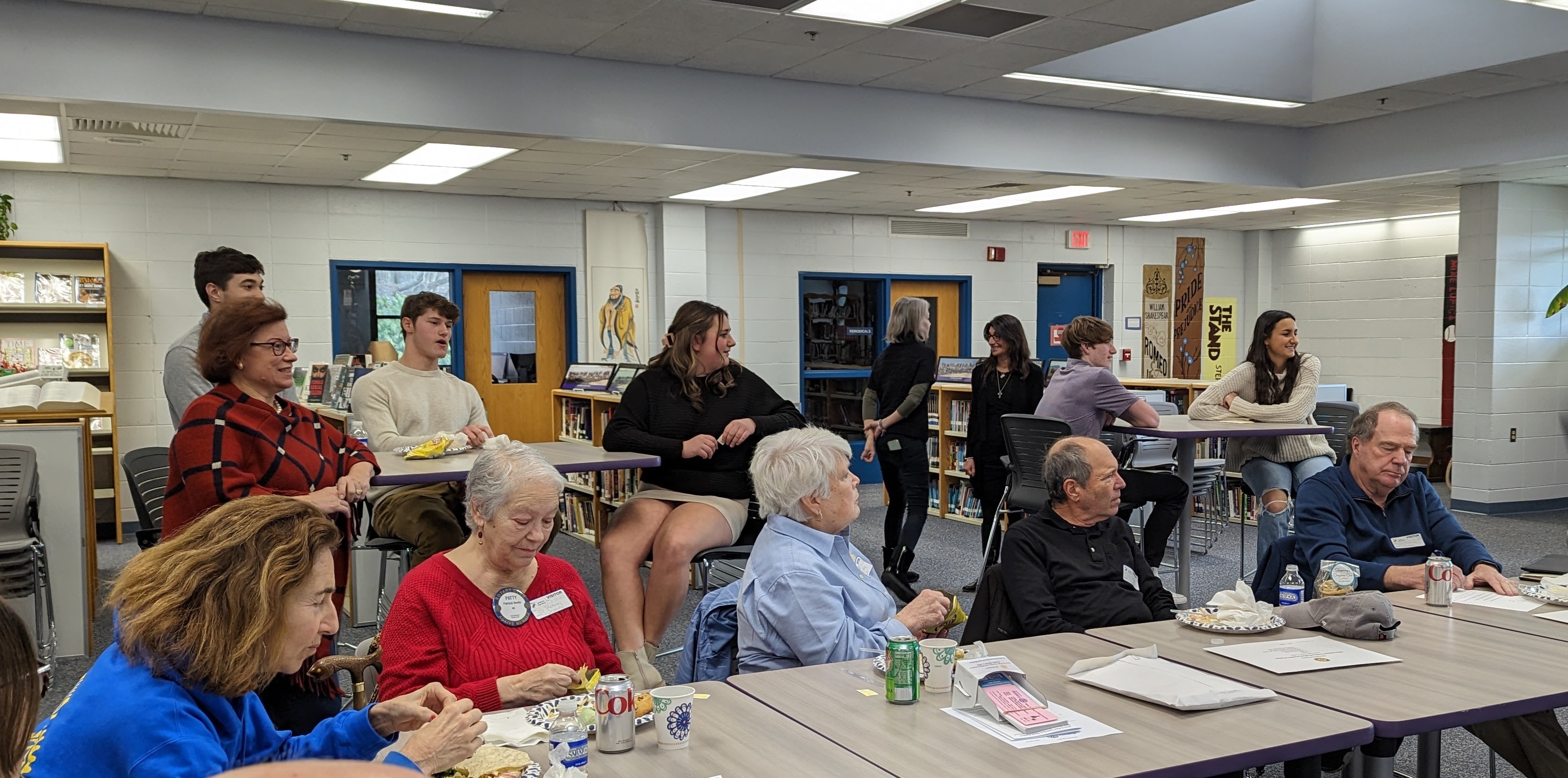 ---