Pledge, Prayer, 4-Way Test: President Pat Devito
Card Game Winner: Charlie Renshaw
Raffle Winners: Bill Webster, Marty, Bill O, Patty
Happy Bucks: PZ: just happy; PD: wife's birthday, today's speaker; JW: happy that we're happy; GM: $5 for John Aforismo recovering from hip replacement surgery, Wine Tasting; NM: John, speaker, H/B Patty; GF: H/B Patty; CR: lots of bucks for UCONN men and women's basketball, John, Patty, etc. etc.; BW: left his dog off the leash and he didn't run away; AS: speaker, Patty; MD: Wine Tasting progress, Patty; Guest Kitty: happy to be here and noted both parents were Paul Harris Fellows!
Program: Kitty Stalsburg, Executive Director and Instructor, High Hopes Therapeutic Riding.
Click on logo for website: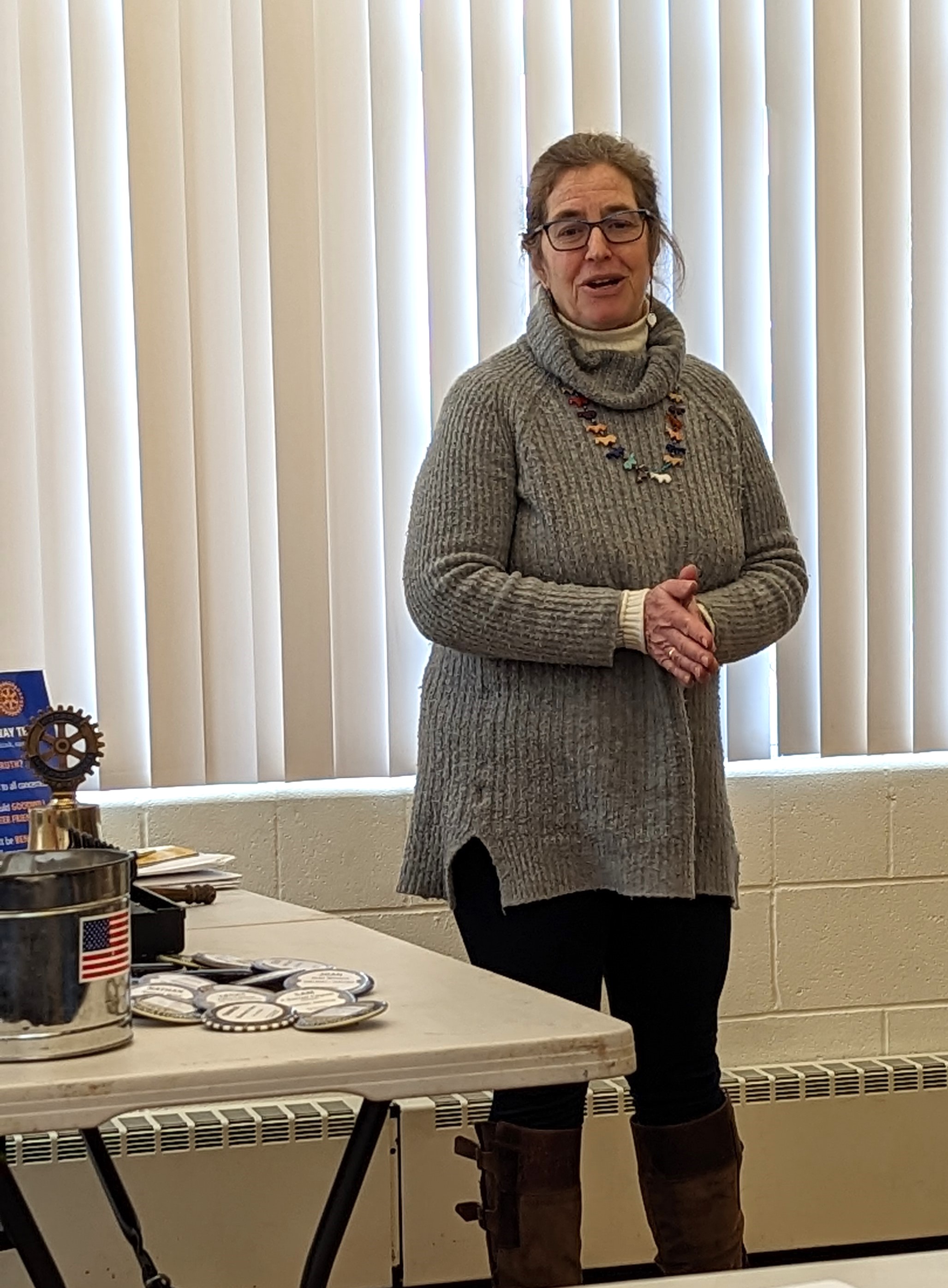 High Hopes was founded in 1974 and Kitty joined as a volunteer 36 years ago. Kitty has been the executive director for 15 years. High Hopes is operating on a $1.7M budget and is situated on 126 acres in Old Lyme. There are many trails to ride in a nice natural setting. 165 people work weekly providing services for the physically and mentally challenged. Riding provides for a natural physical movement that closely resembles the pelvic action of walking which is difficult to emulate. Riding horses can improve cognitive and physical performance by increasing muscle tone and stimulating the neurological system. It helps people with autism spectrum by helping sensory needs. Psycho social needs can improve because they are taught how to take care of a horse and that helps with self esteem and self confidence. High Hopes works with local schools and they have a veterans program (mostly unmounted).
High Hopes needs volunteers, they have been impacted by COVID. They have mounted, unmounted and summer programs. There are 21 horses and will be getting more.High Hopes has fundraisers- a Gala in June and holiday market in the fall.
The tuition cost is $200 per person but some receive subsidies if they can't afford this.
President Pat Devito items:
We have to decide what International Service project(s) we will do. We have 3 options:
Well construction in Africa that will provide water for 1,000 people for 50 years
Help fund a library in Kweisi.
Both of the above
Alan Schwarz suggested both, $7500 for the well, $2500 for the library for a total of $10,000.
Meeting Venues:
John Aforismo has been working on this. The Fireman's Field facility has been declined so we are exploring other possible venues. The VFW Hall and the Estuary are 2 leading possibilities. Meantime, Pres. Pat sent out a survey to members asking for their preferences - breakfast, lunch or dinner meetings. Based on those results, we'll be doing 2 breakfast meetings and 2 lunch meetings. If there's a 5th Wednesday, it will probably be a social evening meeting. Make sure you check the website for times and places.
District Day of Service: May 20. We will be inviting OS and Westbrook Interact Clubs to participate and suggestions for a project are welcome.
Nominations are open for officers, contact Mike Osnato if you'd like to serve.
Committee Reports:
Pat Devito will speak to Kitty Stalsburg about making a donation to High Hopes
Membership: Pete announced that Bill Webster will be joining us!
Speakers: Bill McLaughlin is working on it
Website: Marty new content added: Westbrook Interact activities and power point presentation added to the page
Foundation: market is up right now, Gary suggested asking Bill Tait of Essex Financial to speak at one of our meetings
Nancy Morin read a couple of thank you letters from dictionary recipients. Well written and from the heart.
Gary spoke about the Commodities Exchange which has not been built yet due to a change in its location.
---