Pledge: President Pat Devito
Prayer: Gary McCauley, Marty D for Bob Antoniac
Four Way Test: Pat Devito
Card game winner: Nancy M.
Raffle: Joan M, John D, Marty
Happy Bucks: Lots of happy bucks for Pat and Patty Devito. This will be Pat's last meeting presiding as President as they are moving to Delaware. We appreciate the great job Pat did and the many contributions Patty made to help make OS Rotary special. There were other happy bucks for our guests as well.
President's Notes: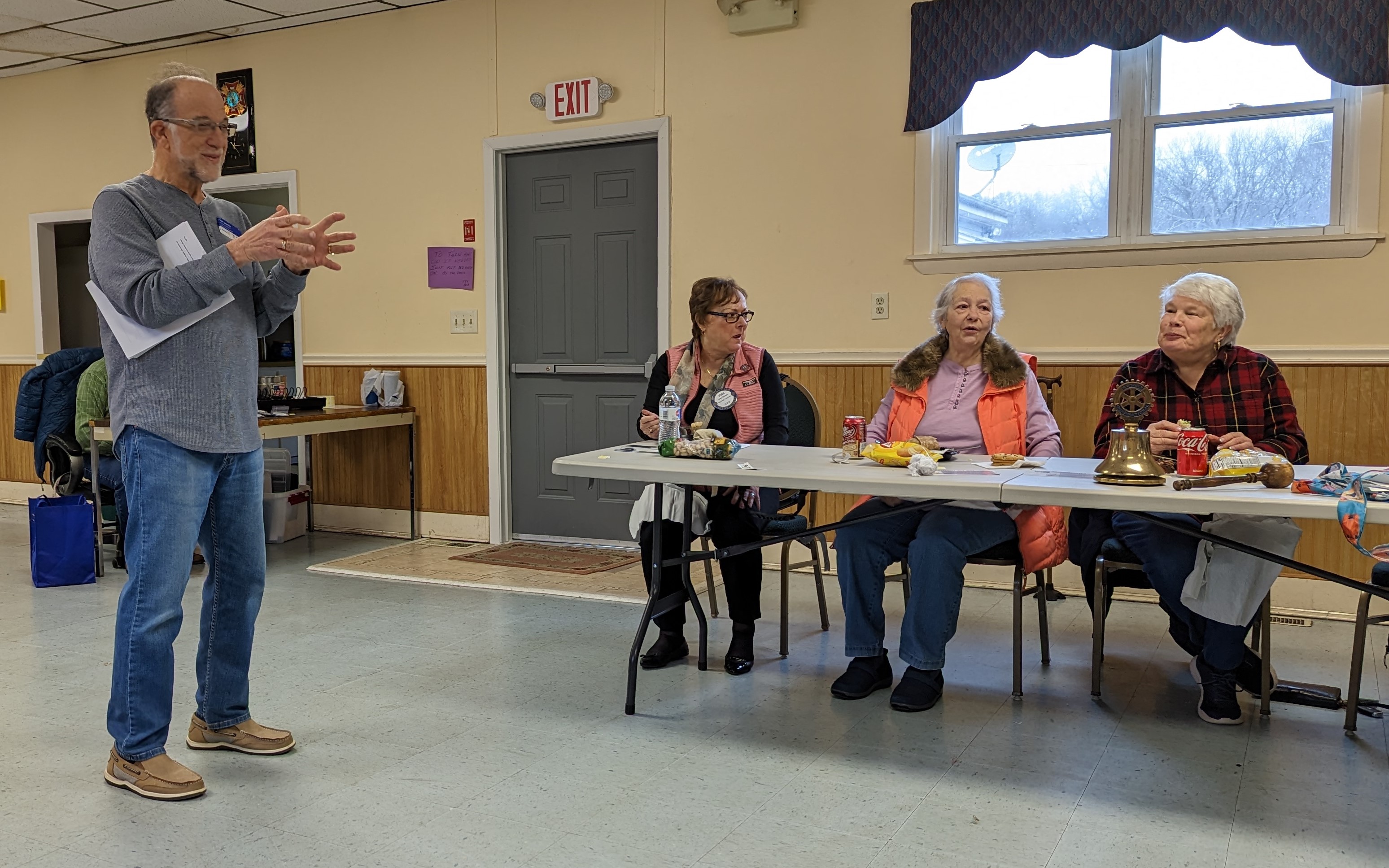 Pat thanked everyone for their support during his term as President. Pat and Patty will be visiting and extend their welcome to anyone visiting southern Delaware.
Nominations for next years officers have been completed. The slate was voted on and approved.
President (taking over immediately): Alan Schwarz
President-Elect: Nancy Morin
Treasurer: Kathy Callinan
Secretary: John Giannini
Sergeant-At-Arms: Pete Zucco
*Backups are needed for the office of Secretary and Treasurer.
A check to the N. Branford club for support of the library has been sent
We are also supporting the Legacy Well Water Project in Uganda. Clean water is expected to increase life expectancy by years for 50 years. There will be an inscription with OS Rotary on it.
Mike Osnato as agreed to attend the Rotary grants course for writing district managed grants for our club.
Alan will step in for Pat to talk about Rotary on the Pete Mezzetti radio show which is broadcast on stations in the shoreline area - a great publicity opportunity!
Gary passed around a newsletter from Acton Library that acknowledged our donation of laptop computers.
Program: Michelle Puzzo, President and Founder of UR Community Cares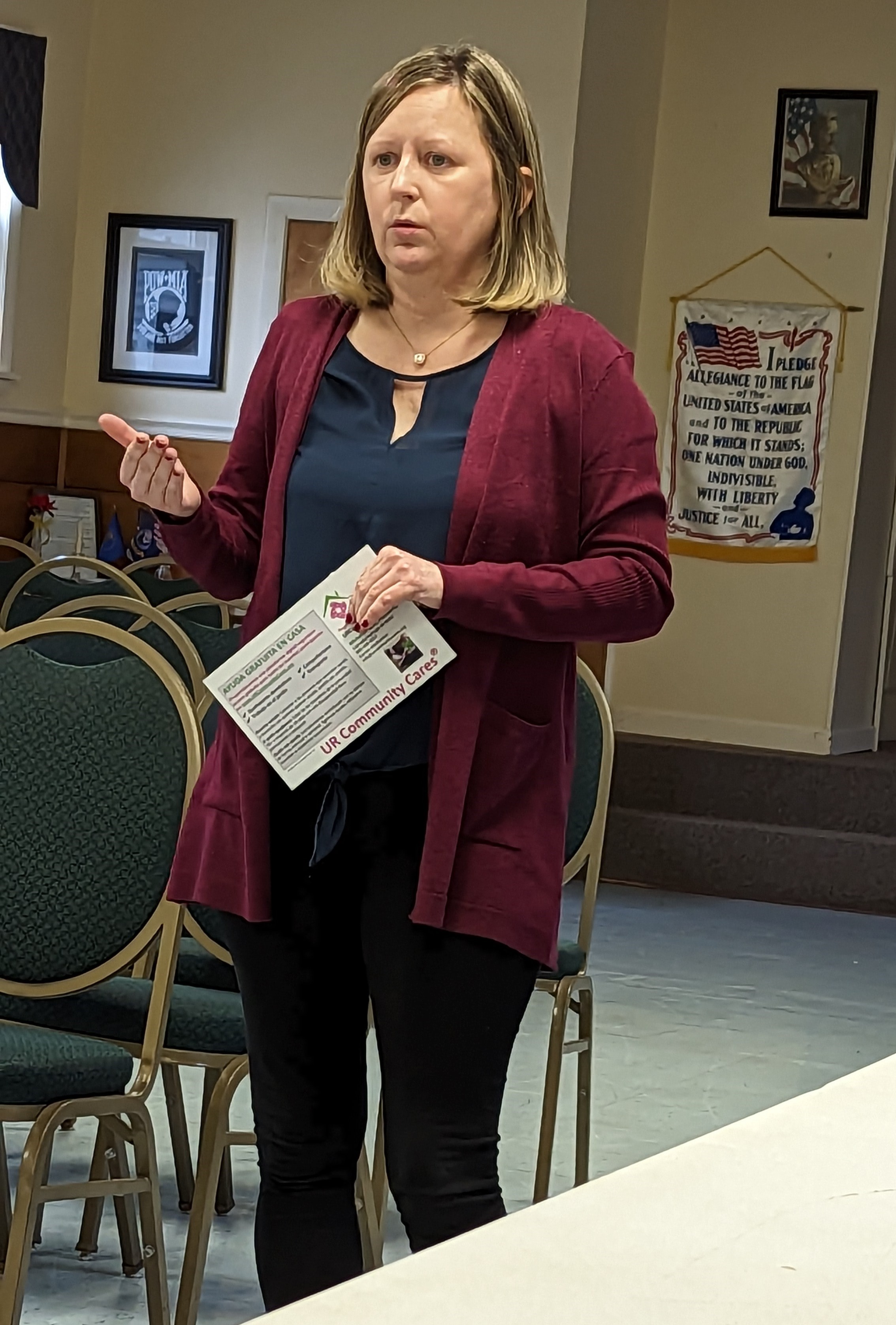 Trained as a physical therapist, Michelle saw a need for elderly assistance beyond just healthcare. People are staying at home but they need help summed up in the following 4 categories: Household Chores, Yard Work, Companionship, Transportation. Volunteers are needed, background checks are performed. Once you've been approved as a volunteer, you are given a list of needs to choose from. Their website connects people to resources. Funding comes from private sources and UR Community Cares is a nonprofit organization and does not receive funding from insurance companies. Corporate and nonprofit donations are welcome. They have grown to the point that they now have some payrolled staffing. Many people are home-bound and services such as transportation, grocery pickup and more are needed. There are 1400 people in the program. Many people are referred to URCC by town social services departments. Michelle has been engaged in getting the word out to churches and other groups of what URCC offers.
Tel: 860-430-4557, Website: URCommunityCares.org
Other Business
Charlie is working on the golf tournament
Joan Michaud spoke about a request from Wreaths Across America. We gave $750 in 2015. Gary pointed out we hosted a lunch at the high school for the caravan that passed through Old Saybrook last year.
Due to his demanding schedule, Bill Webster will not be joining Rotary at this time
John Aforismo said the lunch today was catered by Mindy K's - great job. Leftovers were brought to the VFW members area.
Alan stated he likes the VFW hall and sees a future of meetings and other gatherings here.
---