Pledge: Alan Schwarz
Prayer: Nancy Morin
Four Way Test: Alan Schwarz
Card Game: John Donnelly
Raffle: Alan, Christina, Lorianne Panzara (guest)
Happy Bucks: A wide variety of happy bucks: buds on the trees, sunshine, lunch with good friends, a very successful Shredding Day and all of the volunteers, Nancy for her Florida trip, and a sad buck for Bob Antoniac.
Updates:
Shredding Event

: John A. provided the following recap: 14 adult volunteers, 2 Interact student volunteers, 232 cars had a total of 505 boxes of paper shredded. Net profit = $4028.

The weather was cold and windy (as I had predicted) but as Gail said the volunteers "shivered but delivered". Thank you to all who helped to make this our most successful Shredding Event to date!

Golf Tournament: Will confirm the Hole in One sponsors for this year and will then officially start the publicity for the Golf Tournament to be held on August 28th at Fox Hopyard.
Rotary Day of Service, May 20. Kathy L. encouraged members to read the email from Joan W. that explains, in detail, the Beach Clean Up to be held in all three towns on May 20th at 9:00am. Joan is still looking for team leaders for each beach. Please let her know if you are available.
Memorial Day: Join in the Memorial Day Parade down Main Street on 5/29. Ride or walk but come out and show our Rotary colors to the community!

Announcements:
Members voted to have the annual Macaroni Dinner again this October.

Summer Concert Series committee will be meeting tonight.

The Transfer Station Project has received final approval.

The Scholarship Committee will be interviewing 22 applicants May 1 – 3.
Program: Guest speaker: Yosr Manai, Tunisian Exchange Student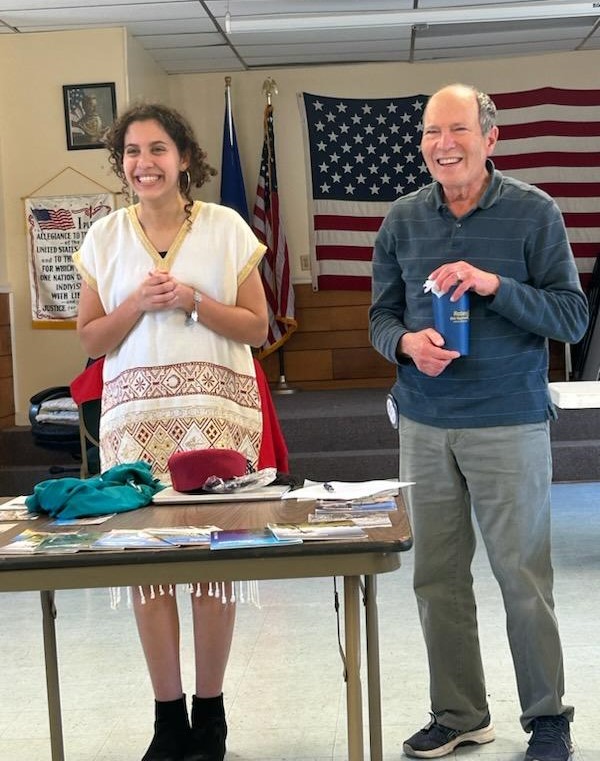 Yosr is an exchange student from Tunisia attending Lyme/Old Lyme High School for the 2022-2023 academic year. Her presentation included an explanation of the: history of Tunisia, traditional clothing worn, traditional foods, languages spoken, climate, educational opportunities, political system, and women's rights. She was a very interesting speaker who held our attention throughout the presentation. We even passed the unannounced quiz she gave at the end of her talk. Yosr was excited to give us these Fun Facts about her homeland.
Tunisia: Is slightly larger than the state of Georgia, gained its independence in 1956, its official language is Arabic, religion is Muslim, has three major climates, Cape Angela is the northernmost point of the African continent, an Amphitheater was built when Tunisia was part of the Roman Empire, dates and olive oil are the major agricultural products, couscous is a favorite dish, and the first Star Wars movie was filmed in Tunisia. At the conclusion of her presentation, Yosr gave each of us a miniature replica of a chechia (the Tunisian hat) and taught us to hello in Arabic. Aslema! Thank you, Yosr, for a presentation we will always remember.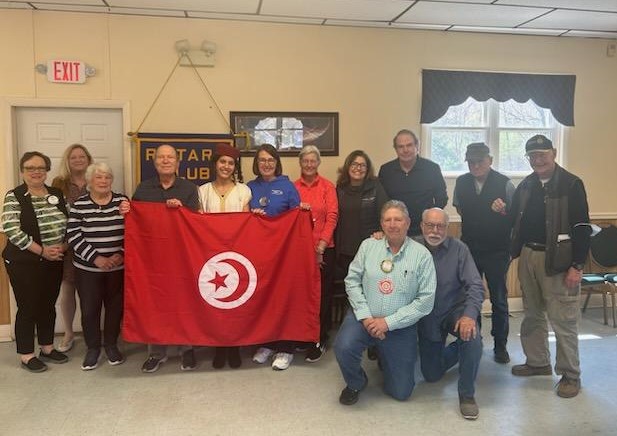 Next Meeting: May 3rd, at Noon at the VFW in Old Saybrook
---