Pledge: Pat Devito
Prayer: Pat Devito
Four Way Test: Pat Devito
Card Game Winner: Kathy Callinan
Raffle: John A., Joan, Mike, and Pat
Happy Bucks: John A. for getting to baby sit his grandkids this weekend, Joan for her wonderful trip to South Carolina to visit family, Mike Rafferty (guest speaker) for his 17th grandchild arriving in June, many for the weather, our guests, and the guest speaker.
Guests: Julie and Ron Malloy
Pat's Updates: notify Bill M. if you're going to attend the Paul Harris Fellowship Recognition Dinner honoring Marty by 5/8. The dinner will be at the Old Lyme Country Club on 5/18.
Work on the Commodities Exchange shed at the transfer station will begin in June.
At the District 7980 Assembly last Saturday, Pattie and Pat attended the awards dinner where the Club was given the coveted Pettengill Award. We were nominated by Laima Nori, who is our Area Director, and supported by Tari Marshall-Day, who is the incoming District Governor. Five Clubs were nominated and we were chosen by unanimous vote of the selection committee. District Governor, Jeff Krause, commented, "All you need to do is look at their website to see why they been awarded the Pettengill Award."
Program: Refugee Relocation in Old Lyme - Speaker: Mike Rafferty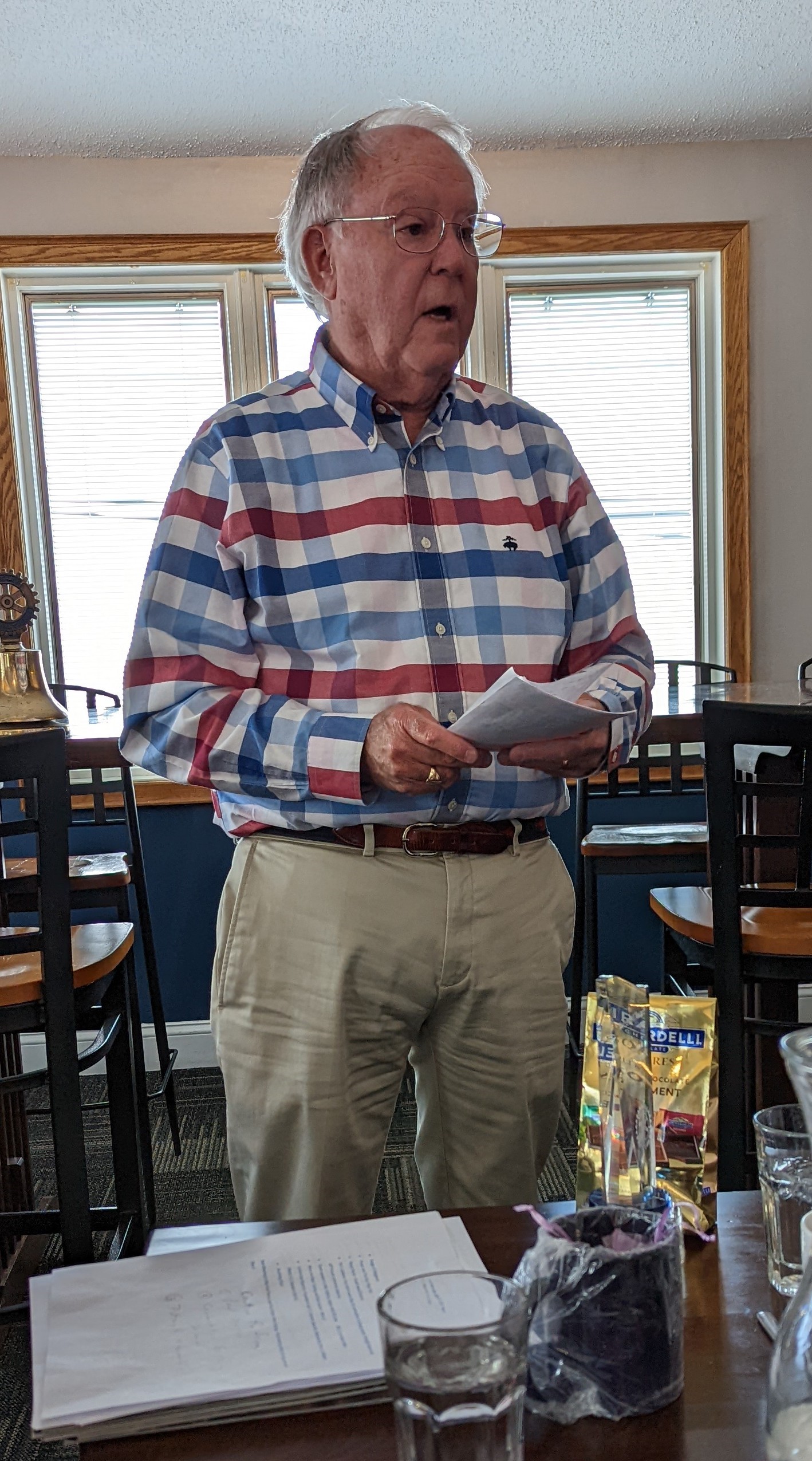 Mike, who was principal of the OSMS from 1990-2019, took time to thank the Club for all we do for the children in our three towns and for our generous support of the Refugee program in the past. The program, now in its seventh year, is run by three churches in Old Lyme – the Congregational Church, St. Ann's Episcopal, and Christ the King Church. Mike gave an update about each of the five families that relocated here over the past seven years. Mike told some heartwarming stories about the successes, and struggles, that each family encountered. Due to tremendous community support, the successes far outnumbered the struggles. Mike explained the need for a van for the current family. The Club's Outreach Committee will be making a recommendation for a donation towards the purchase of a van. Thanks, Mike, for the update and the good news about the relocated families and their acceptance by our community.
Wine/Beer Tasting May 6th at Saybrook Point Resort
Marty presented a detailed update of the event. There is still time sign up sponsors and get auction items. The deadline is Monday, May 2nd. At this point we are running ahead of last year's totals – keep up the good work!! Watch your email for sponsor and item updates.
Next Meeting is May 4th at Penny Lane Pub at noon - last meeting before the big Event!

---