Pledge, 4-Way Test: Alan Schwarz
Prayer: John Aforismo
Guest: Dick Mason of Clinton Rotary
Card Game Winner: Alan
Raffle Winners: Alan, Nancy, Gail
Happy Bucks: PZ for the nice weather; AS for everyone being here and the nice day; MD for a great time in Bermuda visiting his daughter's family; EP for being here; CR for Dick Mason of Clinton being here and the sunny forecast; JA for his upcoming 10 vacation to Ireland; ditto for NM; GF for enduring Meals on Wheels with Nancy; JM wishing everyone safe travels; GM for last week seeing his grandaughters and upcoming travels; Dick Mason happy to be here; JW experience with the scholarship committee
Dick Mason announced the Clinton Rotary Cancer Relief Walk-A-Thon which will be Saturday June 3rd, Ethel Peters Complex, 145 Glenwood Rd, Clinton, CT from 10am to 10pm; opening ceremony at noon.
ROTARY DAY OF SERVICE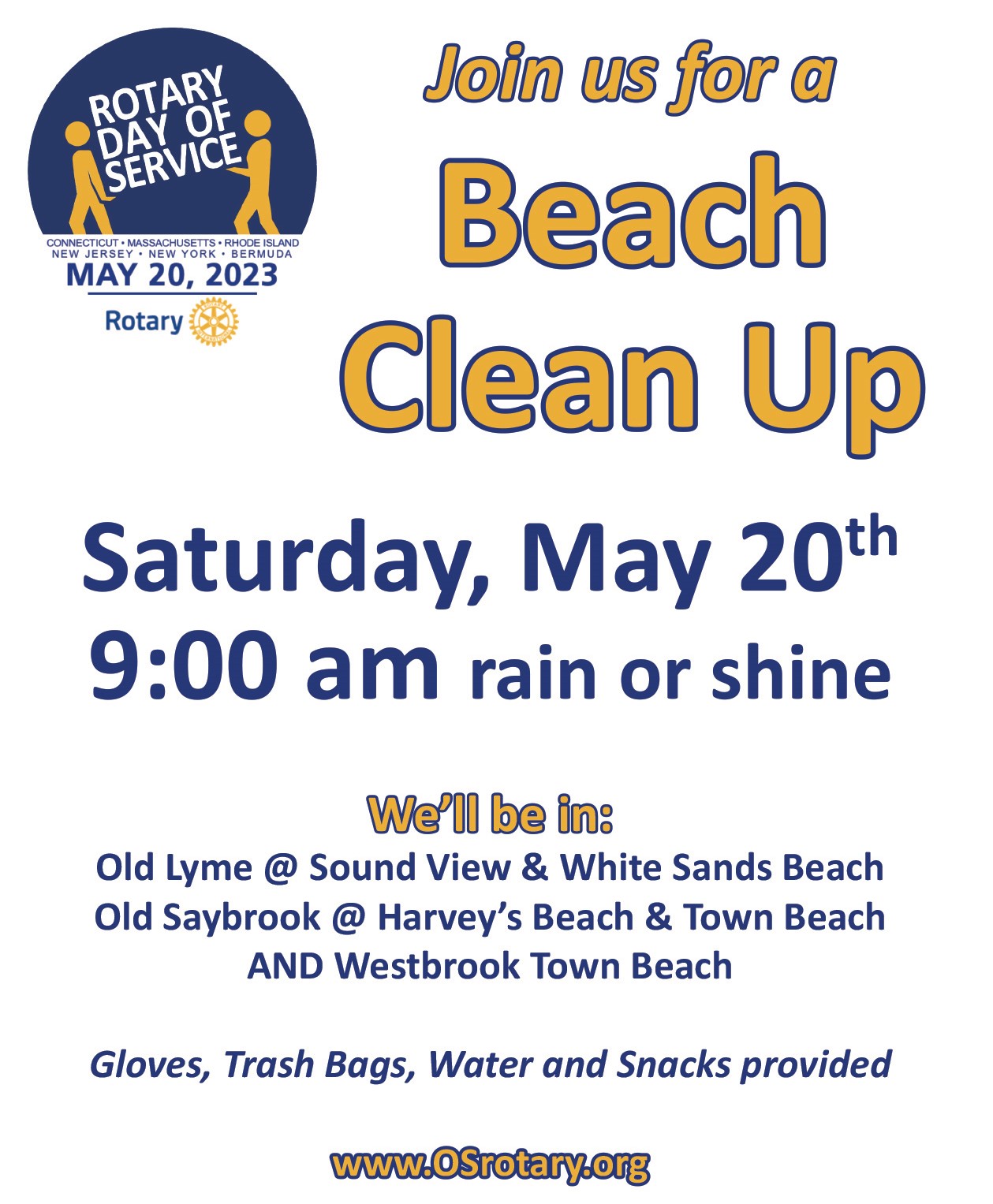 Joan Winters is heading this up. Lawn signs are out, flyers printed and distributed. The flyer has been posted to Facebook so be sure to hit the LIKE button. Channel 3 has been contacted. High school students are promoting it. Unfortunately, May 20 is prom weekend in Old Saybrook so participation from them may be light. Leaders will be given the supplies to give out to participants cleaning the beaches. Tractor Supply and Ace Hardware donated the items.
MEMORIAL DAY PARADE
We are registered to march and ride in the parade May 29. Marty's brother-in-law Mike Goldblatt will accomany us with a vintage antique car. Plenty of seating is available if you would like to ride. The day begins with the traditional Wreath Laying Ceremony on the Connecticut River at 9am. We are asked to assemble at the Stop & Shop parking lot on Elm St at 9:30, the Parade steps off promptly at 10 marching to the Veterens Memorial Monuments on the Town Green where a memorial service will be conducted.
SUMMER CONCERT SERIES
Nancy announced we have a budget of $4,000. We are asking for donations of bottled water to distribute. We need at least 6 volunteers per concert to put up and take down the tent, give out the water and treats and set up and run the raffle. There are 2 concerts in Westbrook and 5 in Old Saybrook. Don't forget to wear your blue tee shirts! Nancy has the concert schedule.
SAYBROOK STREET PARTY
June 25, Main Street will be closed to vehicle traffic. We may take a booth - more later
GOLF TOURNAMENT
Charlie has been working on this. Brochures coming soon
SCHOLARSHIPS
Charlie reports 20 applicants have been awarded scholarships. We will not exceed our budget.
MEALS ON WHEELS
Charlie says we can use some more help due to vacations. Help is needed May 17 and May 31.
WORLD AFFAIRS SEMINAR
There was some discussion on this. This is set to resume June 24-30 after several years of cancellation due to the pandemic. An international student requested funding for travel to the US, something we had not done before. In the past, we have sent local students to Whitewater, WI for this leadership conference. It was decided that we would not cover international travel expenses.
OUTREACH
Joan has several requests including one from John Donnelly to take Cubscouts from Troop 226 to New Mexico. More on that later.
Next Meeting: May 10 at 7AM at Saybrook Point Resort & Marina. Student of the Month for Business and Technology
---