Pledge, Prayer, 4-Way Test: President Gary McCauley
Attending: Pete, Marty, Joan W, Joan M, Christina, Kathy, Donna, John A, Mike, Charlie R, Alan, Bill M, Bill O, Gary, Pat, Nathan
Gary announced that the next meeting will be at the Indiantown Clubhouse on June 29th, 5:30-7:30 p.m. Casual dress, $20 per person, Luigi's catering -- and Myrcene will furnish beer samples.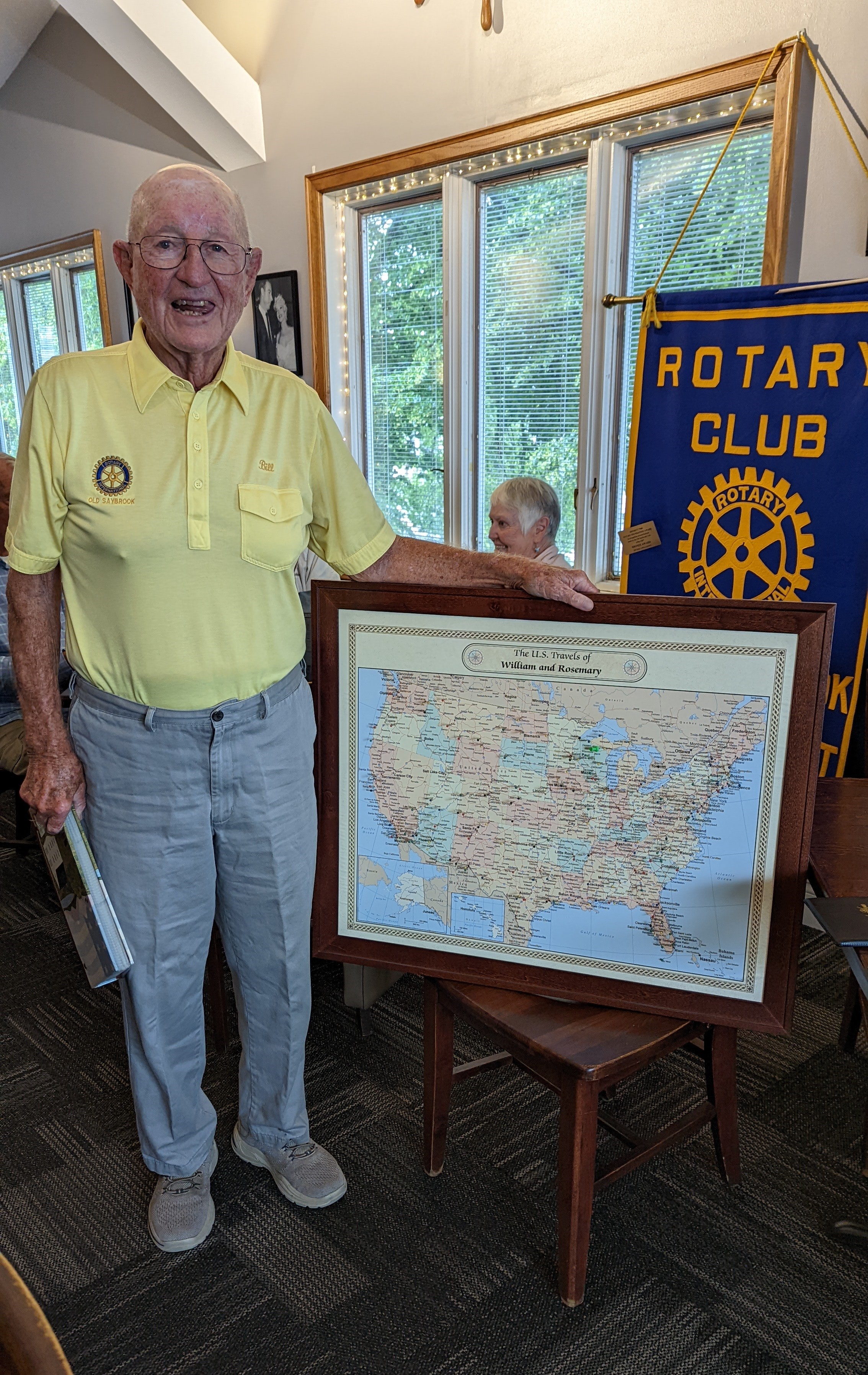 Today's excellent speaker was Bill McLaughlin, who gave a vivid description of the McLaughlins' numerous adventures, RV'ing across the nation! He displayed a large map of the United States peppered with hundreds of pins indicating locations they've visited, and circulated a colorful photo album of iconic sites they've seen (like Mt. Rushmore). He told amazing anecdotes, including the time he jumped aboard someone's "parked" RV that began rolling, and applied the brakes a moment before it sailed off a cliff! In addition, in their travels, he's attended some 35 Rotary breakfasts and lunches, built Habitat-for-Humanity homes, and made new friends everywhere! And to think it all began in 1975, with a small Winnebago, and a simple plan to deliver children to college! Thanks for the warm memories, Bill – and, oh yes, there was the remarkable photo of a water-tower marked "Welcome to McLaughlin" -- taken in McLaughlin, South Dakota!
Gary noted that Summer Concerts have begun, where there have been inquiries about joining the club. Of the first 3 Wednesdays in July featuring concerts, those on the 6th and 20th will be "ice-cream" nights!
Charlie updated plans for the Golf Tournament on October 3rd, including his conversations with Sandi Taylor about the best way to pay tribute to her late husband, Brent (she may want a sign about his involvement in Rotary). We'll wait for her decision. Meanwhile, Charlie requested members' ideas about the best way to honor Brent. Joan M has spoken to Sandi too, and she assured Sandi that a memorial would not detract from emphasis on the Club, which Brent wouldn't have wanted, and she encouraged Sandi to call Charlie with her decision. Among the suggestions: Alan proposed naming it the "Brent Taylor Memorial Golf Tournament", and Donna suggested the phrase "in memory of Brent Taylor." Charlie noted that Mondays are the only days available at this golf course; they start at noon, so breakfast is not an option.
Regarding the Foundation, Joan M requested Summer Lunches funding (OSYFS), because there are no school lunches provided over the summer (Gary noted, "We partially funded it, 2 years ago"). OSYFS staff will administer the program. The Club voted unanimously to use Outreach Funds for the grant.
Marty spoke briefly about the Website.
Under Membership, Pete reminded members, when approached by interested parties, always to tell them the date and time of the next meeting.
Pat is planning the sites for upcoming breakfast meetings and/or luncheons.
Marty gave an update on Bob's health, with hopes for a positive outcome.
---