Pledge: President Pat Devito
Prayer: President Pat Devito
THE FOUR WAY TEST of the things we think, say, or do
Is it the TRUTH?
Is it FAIR to all concerned?
Will it build GOODWILL and BETTER FRIENDSHIPS?
Will it be BENEFICIAL to all concerned?
Raffle: Kristina DeMaria, Elizabeth Myers, Mrs. Marvin
VISITING ROTARIAN: Ralph Stevens, The Rotary Club of Sanibel-Captiva
HAPPY BUCKS
Pete Z for students, Bill O happy for the day, Alan S for the students, Elizabeth M for the day and students, Charlie N for day and students, Nancy M for the day and students, Mrs. Marvin happy to be with us, John A happy for a great vacation abroad, Pat Devito for students, Ralph S for students and the day, Tara W for the students and the day, Bill McL for a great visit to Wisconsin to visit family
PRESIDENT'S UPDATE
DMG for Acton Public Library, approved by District 7980 a check for $2,500.00 in hand and library moving to purchase laptop computers
ARAP funds approved by Selectmen. A Town meeting November 28, 2022, to vote and releasing funds. Plan to attend and vote yes.
OS Chamber named The Rotary Club of Old Saybrook volunteer organization of the year.
Bikes For Kids Polar Express event 5:30 PM Saturday November 12, 2022, at "The Wheelhouse", Essex, CT
A lengthy discussion about meeting venues, an ongoing challenge, more to follow. Think about this and make your thoughts known.
President Pat Devito called upon Bill O'Shaughnessy to give an update on the recent District 7980 conference. The Rotary Club of Old Saybrook was the winner of a raffle, the boys brought home a car filled with feminine products to be delivered to The Women's Shelter in New London. Again District 7980 urges all Rotarians to participate in the "every member every year" program, $25.00 every quarter, $100.00 annually to The Rotary International Foundation.
PROGRAM - STUDENT OF THE MONTH, Tara Winch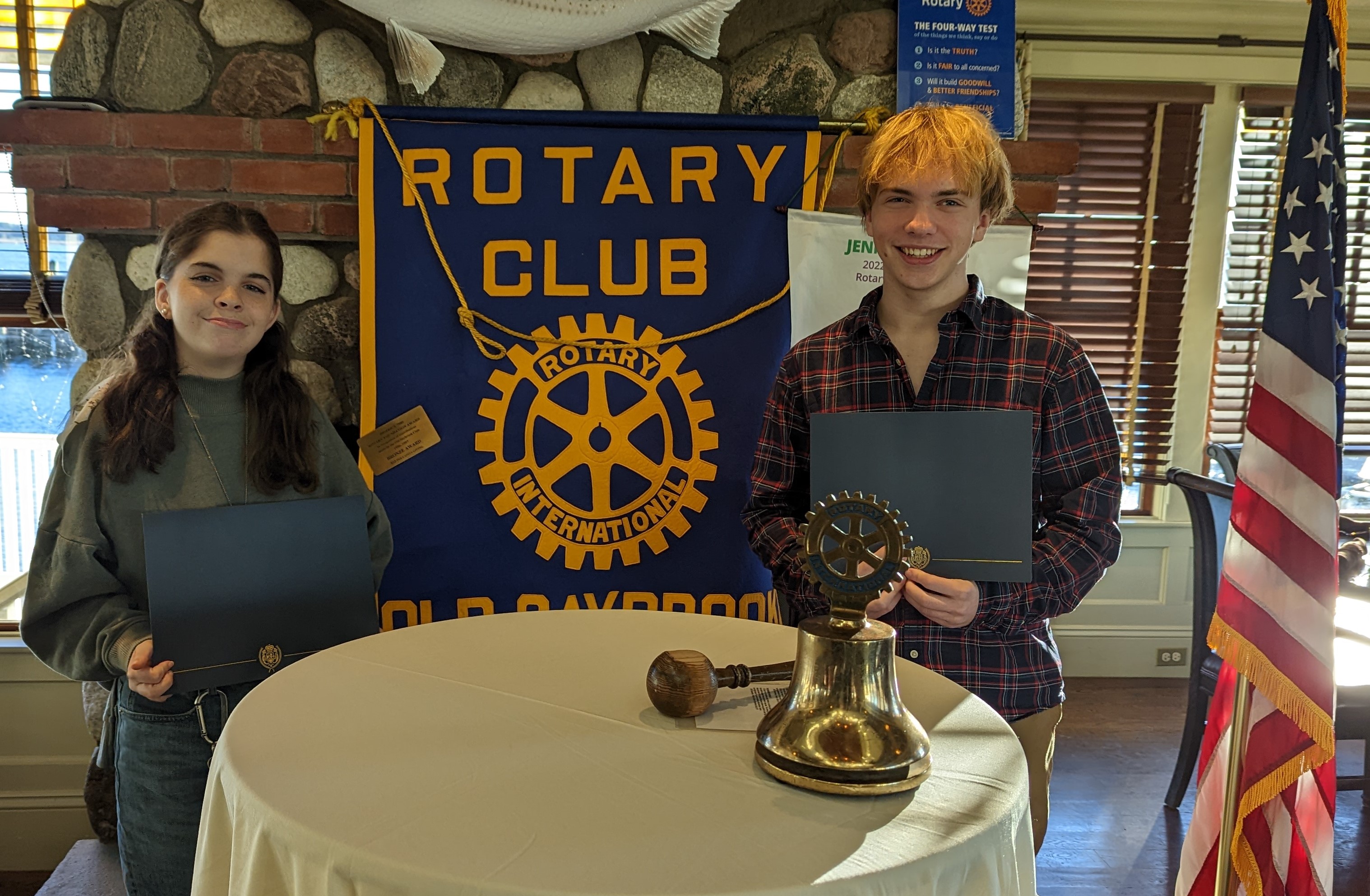 Old Saybrook Rotary recognizes the achievements of our High School students with its Student of The Month program. Each month of the nine-month school year, the schools choose a student to represent a discipline, English, Mathematics, Social Studies, etc. We invite the students, parents, and teachers to our breakfast meeting on the second Wednesday of the month. The students are given a certificate of recognition, and a $25.00 stipend. Old Saybrook Rotary also donates $25.00 to The Rotary International Foundation Polio Plus program in the students' names.
Our Student of The Month program began October 10, 1990, with recognition given to Old Saybrook High School student Sean Benak. Rotarian Tara Winch remembers this well as this was her first year of teaching at Old Saybrook High School and had Sean as a student. Also, interesting, December 5,1994 Seana Rafferty was our Old Saybrook High School Student of The Month, Social Studies. December 8, 2021, Seana's daughter, Molly Nygard was our Old Saybrook High School Student of The Month, Social Studies.The program was expanded to include Westbrook High School on October 10,1999, with the award given to Allison Voegel. The program was expanded again to include Lyme/Old Lyme High School on October 4, 2000, with the award given to Maia Wojcik.
As of November 9, 2022, Old Saybrook Rotary has recognized 690 students from our three High Schools.
STUDENT OF THE MONTH MATHEMATICS, Lyme/Old Lyme High School
Vice Principal, Lyme/Old Lyme High School, Jeanne Manfredi introduced Mathematics teacher Gelet Kanycz who in turn introduced student William Danes. William is an outstanding student with a wide variety of interests scuba diving and studying to get a pilot's license. William is a very confident and helpful student. He is a member of the math team, scoring a 5 on the AP Calculus exam and is interested in environmental sciences. Plans may include attending a large University.
STUDENT OF THE MONTH, ENGLISH, WESTBROOK HIGH SCHOOL
Principal Tara Winch introduced English teacher Nancy Malafonte who in turn talked about Lydia Marvin. Lydia is an excellent student, strong in here convictions, an accomplished writer, editor on the school paper, very involved in the Westbrook High School English program. She is keeping her options open for advanced schooling.
STUDENT OF THE MONTH MATHEMATICS
OLD SAYBROOK HIGH SCHOOL, Student Laura Day unable to attend
WESTBROOK HIGH SCHOOL, Student Adriana Stanieri unable to attend
COMMITTEE REPORTS
Foundation: Jan Perruccio, No Report
Outreach: Joan Michaud, 1,100.00 to Estuary, Meals on Wheels
Membership: Pete Zucco, Two new members Kristina DeMaria and Kathy Ledwith
Web Site: Marty Drobiarz, No report
FUTURE MEETINGS
Wednesday November 16, 2022, Donna DeLisa Old Saybrook Garden Club, Penny Lane Pub
NO MEETING HAVE A NICE THANKSGIVING
Wednesday November 30, 2022, Social event at Mycrene Brewery Ragged Rock Road
Wednesday December 7, 2022, Business Meeting Estuary
Wednesday December14, 2022 Student of The Month Social Studies SPI 7:00 AM

Wednesday December 21, 2022, Joan Winters Christmas Concert. Carina Trujillo Using OSHS

Wednesday December 28, 2022, NO MEETING MERRY CHRISTMAS
AVENUES OF SERVICE
Club Service
Community Service
Vocational Service
New Generations
International Service
A breakdown of all the sub committees is on our web site. Look it over.
THOUGHT FOR THE DAY
" Even with a high cost, living has remained very popular"
---