Scholarship for Student in Machakos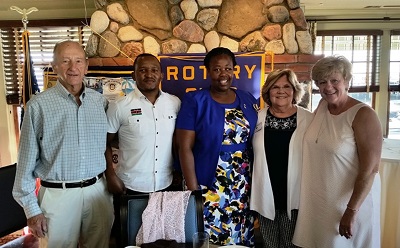 Marian and Art Landry introduced our visiting Rotarians Frank Musyoka and Lydia Kimondo from The Rotary Club of Machakos, Kenya. Frank is the incoming President of the Club and his wife Lydia will be the new Treasurer.
Our club recently provided funds for a student in Machakos so that he could attend college for engineering. The following is their letter of appreciation.
Dear Rick,
I am writing to express my sincere gratitude to you and the entire Rotary Club of Old Saybrook for your generous financial support of $1,000 for my brother Essau Masai's university education. I was thrilled to learn that you considered Essau's case after president Frank of Rotary Club of Machakos shared it with you. I received an equivalent of KES 97,481.00 which you sent via western union and I am deeply appreciative of your support.
Essau has always dreamt of being an engineer despite coming from a child-headed household. His desire to learn and achieve his dreams has always been my moving force despite the challenges and financial constrains I face while educating him. Although he was forced to defer his studies for a whole academic year, I never gave up and I was sure God would open up ways and means to get money to enable him continue with his studies. Essau reported back to university on 18th September 2017 ready for the first semester of his fourth academic year after paying Kes 97,481.00 leaving a balance of Kes 8,519.00 for the ongoing semester. Let me say you ( Rick, Frank and the entire Rotary Club of Old Saybrook) are angels send from above and without people like you, your support and generosity, students like Essau would be unable to actualize their dreams. Thanks to you, he is now one step closer to that goal.
By awarding Essau that support, you have lightened my financial burden as a guardian which now allows me to focus more on the most important aspect of job hunting so that I can be able to raise his entire required university fee and enable him to continue his studies without further deferment. Your generosity has greatly inspired me to help others and give back to the community. I hope one day I will be able to help students achieve their goals just as you have helped my kid brother.
Your generosity, selflessness and unending love has just touched my heart. I even lack the correct words to thank you Rick and members of rotary club of Old Saybrook but let me say your investment in the future is a great asset for our world. I thank you from the bottom of my heart for your support in my brother's educational adventures. I pray that our heavenly father will bless you and your families in your daily undertakings. May God always meet the desires of your hearts and may all your prayers to the heavenly father always be a yes and amen. Kindly pass my sincere appreciation to members of Rotary club of Old Saybrook. I hope one day I will be able to meet you all and thank you for the much love you have expressed to us.
Yours Sincerely,
Nancy Mumbua